Behavior Chart for Kids
Free Printable Behavior Charts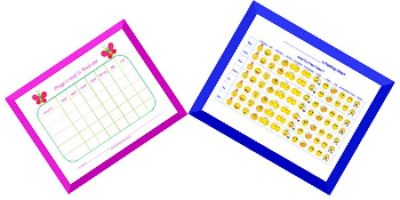 A behavior chart can reinforce and encourage new and positive behavior as well as remind kids to do chores or homework. A behavior chart, also called a reward chart, can also help curb and discourage negative behavior. Before starting a behavior chart, we suggest that you read our article on How to Use a Behavior Chart. We also have a page of Example Behavior Charts to give you an idea of how to use a behavior chart, a point system and a potty training chart. You can search for a specific character here! We are happy to make up charts or adapt charts. This is free! Just drop us a line!
General Behavior Charts
Search Behavior Charts by Character
Search Behavior Charts by Theme
Behavior Charts for Ages 3+
Behavior Charts for Ages 11+
Behavior Charts with Masked Characters
Monthly Behavior Charts
Behavior Charts Designed for Specific Behaviors
Star/Sticker Charts
Behavior charts that work well to target only one behavior
Single Behavior Charts
Behavior Punch Cards
Step-by-Step Charts with Popular Characters
Step-by-Step Charts without Popular Characters
Behavior Charts designed for Specific Behaviors
Chore Charts
(any of our general behavior charts can be used as a chore chart)
Chore Charts for Preschoolers & Toddlers
Chore Charts for Ages 4-10 - Popular Characters
Chore Charts for Ages 4-10 - Plain
Chore Charts for Ages 11+
Chore Charts that Kids Can Color
Printable Chore Dice
Family Chore Charts
Health & Hygiene Behavior Charts
Dental Care Charts
Hygiene Charts
Exercise Charts
Healthy Eating Charts
Mask Safety
Medical Reward Charts and Certificates
Behavior Charts to Track Daily Routines, Pet Care, Instrument Practice & Saving Money
Daily Routine Behavior Charts
Money & Allowance Tracking Charts
Instrument Practice Charts
Pet Care Charts
Feeling Charts, Emotional Tracking & Problem Solving Worksheets and Resources
Feeling Charts
Feeling Word Puzzles
Self Compassion & Mindfulness
Conflict Resolution Charts
Bullying Charts and Printables
Anxiety Worksheets/Charts
Gratitude Worksheets
Grief Worksheets
Divorce Worksheets
Anger Management Worksheets/Charts
Behavior Contracts and Goal Setting
Behavior Contracts
Goal Setting Charts
Classroom & School Behavior Charts for Teachers and Home
Homework/School Behavior Charts
Daycare & Preschool Charts
Remote/Homeschool Learning Schedules
Behavior Punch Cards
Reward Certificates for the Classroom
"Caught You" Reward Coupons for the Classroom
Behavior Bucks
Classroom Charts & Printables
Reading Charts & Printables
Reading Charts
Book Character Book Logs
Book Character Reading Charts
Printable Bookmarks
Potty Training Charts
Potty training charts with Popular Characters
Potty training charts without Popular Characters
Potty Training Reward Coupons
Picture Cards & Daycare Charts
Color by Number Behavior Charts, Holiday
Color by Number Behavior Charts
Holiday Theme Behavior Charts
Reward Coupons, Calendars, Games, Planners & More!
Reward Coupons
Reward Certificates
"Caught You" Reward Coupons
Behavior Bucks
Postable Reminders or "Postems"
Printable Invitations & Cards
Printable Gift Labels
Printable Stickers
Printable Bingo
Printable Daily and Weekly Planners
Printable Calendar Pages