Reward Coupons, Stickers, and Other Printables
Autism/Sensory Disorders/Anxiety
Tips To Tackle Tricky Behaviors
ADHD Kids Can Have A Great Summer With A Little Planning Ahead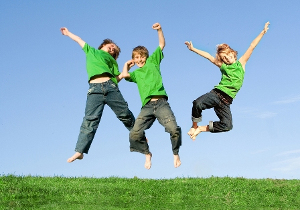 | | |
| --- | --- |
| | Summer is that time every kid looks forward to. It is the "light at end of the tunnel" of a long school year. It is a time to "let loose" and have a great time. But for kids with ADHD this is a big change, and not always a positive one. The day-to-day structure goes away, the daily routine is gone. In just a few days or weeks, this long-anticipated break can become a potential nightmare for ADHD kids and their parents. Because fairly soon, these kids are going around whining and saying, "I'm bored." They come in complaining about an argument with peers or they make a game of tormenting their siblings. |
Luckily, with a little planning ahead, these and many other events can be avoided. Kids with ADHD still need structure, although it can be more relaxed than during the school year. A good tip is to use a calendar that shows upcoming activities. Make a collage of things they can do when there is no planned activity (like games, toys, books, etc) and tell them when they are bored they need to check it and select an activity and do it.

Plan intermittent structured activities such as day camp, vacation Bible school, various recreation programs (like tennis lessons, swimming lessons, a computer workshop, a children's theater group or a summer sports leagues) provided by schools, churches, and community recreation departments.

Think about summer camp. If you decide this is a good idea, make sure the camp can handle ADHD kids and are willing to administer medications if your child takes them during the summer. Check out the list of Summer Camp Programs from CHADD. These camps are specialized for kids with ADHD and provide structure, fun and skill-building. For other possible camp suggestions, please visit the American Camp Association website.


Regardless of whether you send your child to camp or not during summer vacation, make sure you plan for family fun time. When parents get home from work, devote a half hour or so to play time. Play around your home; go to a park or some other fun spot. Have a family game night or movie night. Enjoy a hobby together. You can check out the Family Activities page from my ADHD website for more suggestions.

No matter what the situation, you can make it enjoyable and productive for your ADHD child by thinking ahead and providing a little guidance and structure to curb impulsivity and teach them how to create their own fun time.
(ADHD Kids Can Have a Great Summer reprinted with permission from Empowering Parents)
By Dr. Robert Myers, Child Psychologist
---
Dr Robert Myers is a child psychologist with over 25 years of experience working with children and adolescents with Attention Deficit Hyperactivity Disorder and learning disabilities and is the creator of the Total Focus Program. Dr Myers is Associate Clinical Professor of Psychiatry and Human Behavior at UC Irvine School of Medicine. "Dr Bob" has provided practical information for parents as a radio talk show host and as editor of Child Development Institute's website, 4parenting.com which reaches 3 million parents each year. Dr. Myers earned his Ph.D. from the University of Southern California.