Reward Coupons, Stickers, and Other Printables
Autism/Sensory Disorders/Anxiety
Tips To Tackle Tricky Behaviors
Ten Fun And Creepy Halloween Party Snacks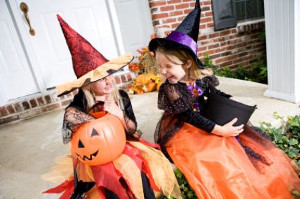 It doesn't matter if you have a big family or if you're on your own... Halloween is one of the most fun holidays ever invented. But if you are a busy mom (and your house is the one house on the block where everyone goes for Halloween parties) you may be looking for some quick and easy Halloween party snacks to have ready for kids, visitors, guests, and freeloading adult friends during the Halloween season.

Looking for some new ideas for festive snacks that don't take a hundred years (or work your fingers to the bone) to put together? The ten Halloween party snack ideas below are lots of fun, simple to make... and some of them are even healthy!

Rotting Eyes and Severed Fingers

This is a very healthy but rather creepy Halloween party snack that makes good use of black olives and baby carrots. Arrange the black olives and baby carrots on a party tray with a bowl of your favorite dip (I like a cream cheese veggie dip). Inform your party guests that the tray is filled with rotting black eyes and severed fingers. And then watch this snack disappear. A good way to get your kids excited about veggies!

Jack o' Lantern Oranges

This healthy treat is so easy to make, and looks so pretty! Carve jack-o'-lantern faces into oranges and place on a platter. The kids will love it. And they can help, too, without ever having to pick up a knife. Have them simply draw the faces on with a black marker, and carve them yourself. Or don't worry about carving them-- they look just as good with faces drawn on.

As a variation of this fun Halloween party snack, I like to hollow out an orange with a Jack o' Lantern face and fill it with fruit salad. Healthy, easy and quick!

Easy Bugs in the Bone Yard

This is such a fun Halloween snack for the kiddos. All you have to do? Sprinkle raisins into a bowl full of white-chocolate covered pretzels. (You could also use chocolate covered raisins.) Kids will eat them up once they learn the name of this snack. Or they'd eat it up anyway, since this mix tastes divine.

Slimy Halloween Jigglers

You know those Jello jiggler molds? They work great for Halloween! Either use whatever you have lying around the house, or go out and pick up a brain or a heart-shaped Jello mold. Make up a batch of orange, black, purple, or flesh-colored Jello and pour into your mold(s). Or make a flat pan of Jello and cut out shapes with Halloween cookie cutters instead.

Ghost Cereal Bars

Prepare a batch of the Rice Krispies marshmallow treats recipe on the back of the cereal box. When the mixture has set up, cut out shapes with ghost shaped cookie cutter. Pour warm white frosting or melted white chocolate over the shapes to cover. Add M&M eyes and mouth. A delicious and easy Halloween party snack.

Green Gelatin Intestines

This is one of the grosser looking Halloween party snacks. Make lime gelatin and add pineapple bits, chopped marshmallows, sliced bananas and mandarin oranges. Pour gelatin mixture into an angel food cake pan and let set up. Invert pan to remove gelatin mold. Slice the mold horizontally into about 5 layers. Slice the layers in half and arrange on a platter in semi-circles to look like intestines. Gross!

Spooky Healthy Eyeballs

This Halloween party snack is both easy and healthy. Wash a bunch of green grapes. Insert a raisin into the stem end of the grapes and freeze them all until ready to serve.

Monster Crackers

Color some white vegetable spread or cream cheese with green food coloring and spread on your favorite crackers. Arrange small bits of green and red bell peppers to make a green-eyed, red-mouthed cracker monster. Use small amounts of broccoli sprouts to make the monster hair. A sneaky way to get kids eating their veggies.

Wormy Halloween Punch Recipe

No respectable Halloween party snack list would do with out having this squeamish punch. Just make green Kool-Aid and put in a clear glass punch bowl. Set the punch bowl on top of a glow necklace so the light shines through the punch bowl. Add some gummy worms and watch the kids squirm when they see it.

Vampire Blood

You use V8 juice for this one so it is healthier than the wormy punch above. Pour the V8 juice in a clear picture that you have labeled as "Vampire Blood." For an adult party, add the ingredients for a bloody Mary, if you like. For a kids' party, well... good luck getting them to try it. It is V8, after all!

*Check out our Halloween Party Ideas and Halloween Games at Game Ideas for Kids!
by Karen Talavera

I'm Karen Talavera and I'm a Halloween addict. I write and edit the Halloween Food section of Divine Dinner Party, where there are tons more recipes for Halloween party snacks and more.
Need more parenting information? Try our custom search engine designed especially for you!